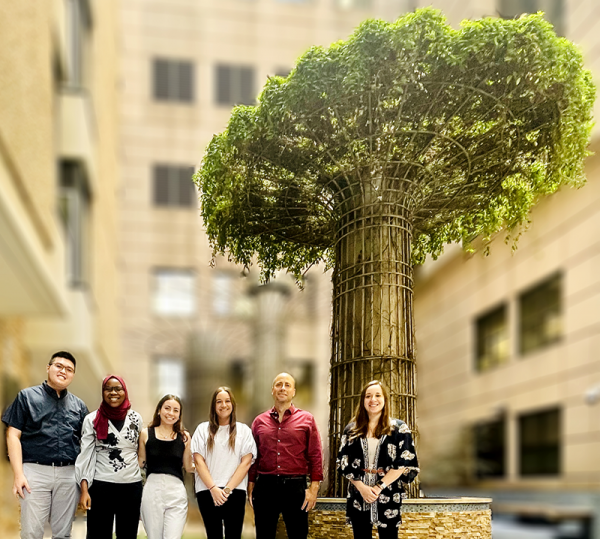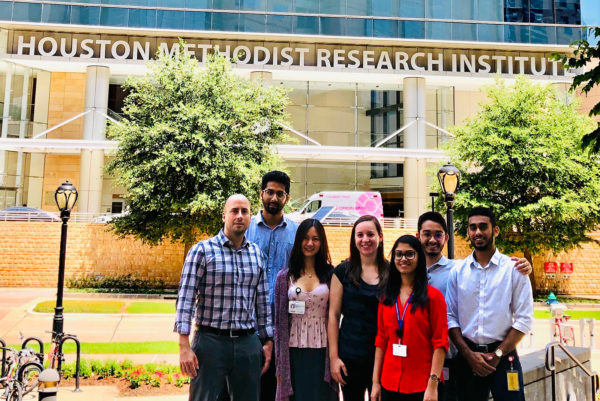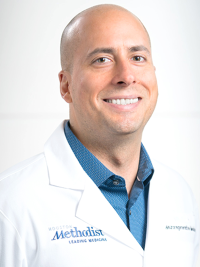 Robert Krencik, PhD, studied neuroscience at the University of Wisconsin-Madison with Su-Chun Zhang, MD, PhD, where he devised the first cellular system for the efficient generation of human glial progenitors and astrocyte subtypes from pluripotent stem cells. He conducted research as a postdoctoral fellow at the University of California San Francisco with Erik Ullian, PhD, where his studies illuminated mechanisms for human astrocytes in controlling the timing of synaptic plasticity. Currently, his lab is using organoid-like sphere cultures as a disease model of the human nervous system.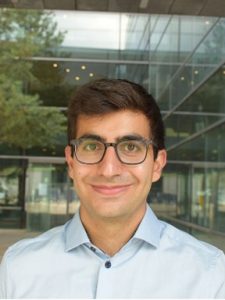 Aboud Tahanis, MD
Postdoctoral Fellow, 2021-present
Dr. Tahanis has a Medical Degree, and a Master's Degree in Molecular and Translational Neuroscience from Ulm University in Germany, where his research focused on motor neuron disease. Currently, he is identifying disease processes due to glioblastoma and genetic mutations that cause Parkinson's disease.
María Dolores (Lola) Montalvo Parra, PhD
Postdoctoral Fellow, 2022-present
María Dolores (Lola) Montalvo Parra has a PhD in Biotechnology and her most recent publication is about the construction of tissue engineered corneal endothelium. While in the MSc Biotechnology Program, Lola analyzed ventricular calcium dynamics in hypo and hyperthyroid murine models. She is a biologist and a huge science enthusiast; used to teach in Junior High and currently teaches in Med School at Universidad Anahuac-IEST, Tampico, Mexico. In her free time, she co-hosts and produces a science divulgation podcast, in Spanish, called 'Ciencia al Chile'.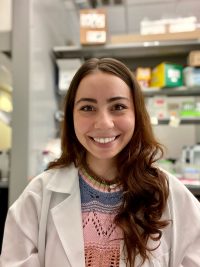 Samira Aghlara-Fotovat
Graduate Student, 2021-present
Samira received a Bachelor of Arts in psychology with a minor in neuroscience from the university of Guelph, Ontario, Canada. Currently, she is a PhD student at Rice University in the Bioengineering Department, where her advisor is Dr. Omid Veiseh. Dr. Robert Krencik serves as her co-advisor. As of now, her thesis is to develop cell based therapeutics to treat inflammation in various diseases. In her free time, Samira enjoys cooking and doing hot yoga!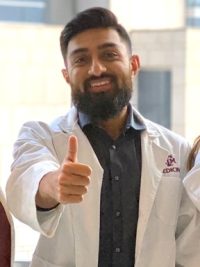 Megh Patel
Graduate Student, 2021-present
Megh received a Bachelor of Science degree in Bioengineering from the University of Illinois at Chicago. He was previously a research analyst at the Byer's Eye Institute at Stanford University. He is currently an MD/PhD student at the Texas A&M College of Medicine and is pursuing his PhD in the Department of Medical Sciences. Megh's thesis will focus on understanding the interactions between astrocytes and neuronal synapses by using bioengineered neural organoids produced from human pluripotent stem cells.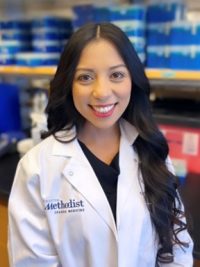 Jazmine Jayasi
Research Assistant, 2021-present
Jazmine received her Bachelor of Science in Biological Sciences with a specialization in pre-health from the University of Houston Clear Lake, followed by a Master of Science in Biomedical Engineering from Southern Illinois University, Carbondale. Her thesis focused on understanding the molecular and cellular role of the Piezo1 mechanosensitive ion channel in reactive astrocytes upon mechanotransduction and synaptic activity of neurons during neuroinflammation using electrophysiology and calcium imaging techniques. In the Center for Neuroregeneration, she is now working to test innovative therapeutic tools to target Alzheimer's Disease using biomimetic nanotechnology.
VISITING & PREVIOUS RESEARCHERS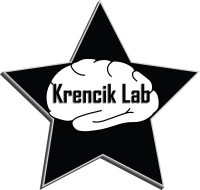 Serena Fu, Undergraduate Researcher, New York University, 2022
Maya Levitan. Undergraduate Researcher, Rice University, 2021-2022
Caroline Cvetkovic, PhD. Postdoctoral Fellow, 2017-2021
Morgan Anderson, Research Assistant, 2019-2021
Arya Shetty, Undergraduate Researcher, Rice University, 2018-2021
Alan Ta, Undergraduate Researcher, Texas A&M University, 2021
Ayisat Adegbindin, Undergraduate Researcher, Johns Hopkins University, 2021
Raj Patel, Collaborator, Baylor College of Medicine, 2018-2021
Debosmita Sardar, Collaborator, Baylor College of Medicine, 2018-2021
Anna Kimata, Undergraduate Researcher, Brown University, 2019
Saba Barlas, Undergraduate Researcher, Texas A&M University, 2017
Nupur Basu, Research Assistant, 2017-2019